Menu Magic Fact Sheet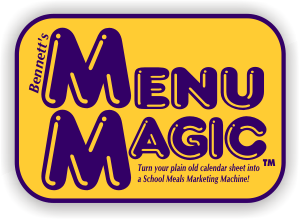 View and print a pdf of this page
Menu Magic is America's only FULLY CUSTOMIZABLE MENU CLIPART SERVICE designed specifically for Child Nutrition Professionals working in School Food Service. We've been publishing Menu Magic and working exclusively with folks like you since 1995!

---

For 2021-2022, we're offering a fantastic new subscriber discount. You'll receive your first year's subscription for JUST $199. THAT'S 60% OFF THE REGULAR FULL PRICE OF $495! WOW! And no obligation beyond the $199 for the first year. Plus, when the time comes, if you decide to resubscribe for the 2022-23 school year, we'll give you your second year for just $299. In effect, you'll get the first two years for the price of one, and you won't pay full price until year three. And that price hasn't gone up this century!!!


---

Every month we send you a link and you DOWNLOAD just the files you need from our web site.


---

Menu Magic is not a stand-alone program, so there's no program to install -- you USE MENU MAGIC WITH MICROSOFT PUBLISHER, AMERICA'S MOST COMMON AND EASY TO USE DESKTOP PUBLISHING PROGRAM. Menu Magic can also be used with Corel Draw and other desktop publishing and web publishing programs.

---

You'll receive detailed instructions to help you get started using Menu Magic, as well as useful tips throughout the year. And we provide UNLIMITED TOLL-FREE PHONE HELP as often and as long as you need it. WE PRIDE OURSELVES ON OUR FRIENDLY, RESPONSIVE, PATIENT TECHNICAL ASSISTANCE!

---

An average month's materials include 15 or more full-page menu TEMPLATES for elementary, secondary, and breakfast menus; 30 or more different pieces of CLIPART; a monthly "WELLNESS IS A WAY OF LIFE" NEWSLETTER; and occasional "MENU MAGIC EXTRAS" -- parent flyers, press releases, poster templates, student surveys, nutrition activities, etc. You'll receive your Menu Magic link FOUR TO SIX WEEKS BEFORE THE FIRST OF EACH MONTH.

---

The

ELEMENTARY TEMPLATES

are 8½" x 11" front and back menu pages featuring clipart designed primarily with elementary school kids and their parents in mind. We provide these menus in two different layouts: "freestyle" and "calendar-style" (with all the Mondays, etc., lined up vertically on the page). You can view and print a sample of both layout options

here

.

---

The

SECONDARY TEMPLATES

are 8½" x 11" front and back menu pages featuring clipart designed primarily for secondary school kids, with space for regular menu choices that are available daily, as well as specials (view and print a sample of

here

). Some of the clipart for these will be the same as for the elementary menus, but there are always three or more pieces per issue designed especially for older kids.

---

The

BREAKFAST TEMPLATES

are 8½" x 11" menu pages in several choices of two-sided and one-sided layouts featuring breakfast-specific clipart. See more details

here

.

---

You can USE THE FULL PAGE TEMPLATES EXACTLY AS THEY ARE and simply type in your menu choices for each day (or paste them in from another program, like Word, Excel, or NutriKids) -- OR YOU CAN REARRANGE the page elements however you like and create your own layout. Print the menus in BLACK OR IN FULL-COLOR, or POST COLOR MENUS ON YOUR SCHOOL SYSTEM'S WEB SITE. The menus look fantastic on smart phones, too!

---

Every month, you also receive art for our

"WELLNESS IS A WAY OF LIFE" WELLNESS NEWSLETTER

, a ready-to-use, professionally-designed monthly newsletter designed to help make

YOU

the Wellness expert in your district -- with very little effort on your part! If you've struggled to put together good-looking, credibility-building wellness pieces (or if the process takes way too much time for you), Menu Magic will help you get into the game! You can view and print a sample newsletter

here

.

---

MENU MAGIC CLIPART IS ALSO AVAILABLE IN SPANISH.

We provide full translations of our Elementary clipart, plus secondary clips on request, for half the cost of a regular English subscription ($249/year), with a discount for first-year subscribers (just $99 for your first year).

More details.

---

In addition to your subscription, we can provide COLOR MENU PRINTING, WEB HOSTING FOR YOUR MENU, and even a TOTAL MENU CREATION SERVICE so that you don't have to do ANY of the work ("Total Menu Creation" is only available for a limited number of districts). If you'd like MORE INFORMATION ON THESE ADDITIONAL SERVICES, please email us at jbcs@schoolmealsmagic.net or call us.


---

REWARDS

are available for your system if you can interest other districts in subscribing -- and they'll get the new subscriber price, too! We'll send you more information automatically when you subscribe, or

learn more here

.

---

We'd be happy to INVOICE YOU LATER IN THE YEAR for the next fiscal year, if you prefer. Just let us know!
View and print a pdf of this page