Spanish Materials
For 2020-2021, we will again offer Spanish translations of all elementary clipart on the templates
and several alternate non-template pieces each month for a charge of $249 for the year.
That's half the cost of the web-access English-language subscription. For new subscribers
to our Spanish clipart service, the cost is just $99 for the first year.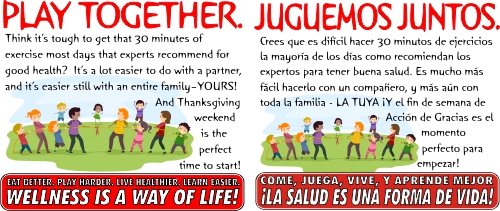 We do not produce complete templates in Spanish (at least not for now) and do not produce
secondary clipart in Spanish. Of course, if you want a specific piece or pieces
of clipart (elementary or secondary) translated that we do not provide,
we will try to get a translated version of the piece to you, time permitting.
The pieces will be available on our web site several days after the English-language pieces are
posted. Subscribers who choose the additional service will be sent a separate link
to the Spanish menus, which will not be available to all subscribers.
If you're signing up for a new subscription, you can indicate that you want Spanish
translations when you order.
If you wish to add Spanish to an existing 2018-19
subscription, please
email us
at jbcs@schoolmealsmagic.net or call us toll-free at 877-739-1577.
If you're a current subscriber and have already paid for your 2020-2021 subscription,
we will bill you separately for the Spanish add-on. If you requested a later payment date,
we will add the Spanish subscription cost to that invoice. If you prefer that we
invoice you in some other manner, please let us know and we will accommodate you.
Also, as with every change and improvement we've made to Menu Magic over
the last 20+ years, we've created this product to serve you better and fulfill
a dire need that at least some of our subscribers have for Spanish-language menus.
We'd like to hear your comments and suggestions, which, as always, we will
strive mightily to address and incorporate into our plans for this new service.
We want to hear from you.