Sessions for Employees
---
These sessions are designed especially to keep employees interested, entertained, and learning for anywhere from an hour to all day -- perfect for a back-to-school workshop or school year in-service day.
If this is your first session with John, we recommend "Turning Service Into Sales," the essential introduction to customer service concepts for all your front-line employees. Please click on the session name for a more detailed description.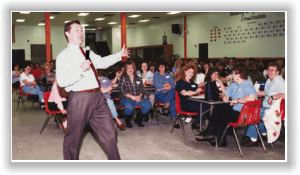 Turning Service Into Sales
Finding Your Place in the School Meals Marketing Picture
Featuring a special guest appearance by Tom Jones!
Are You Nasty or Awesome?
What Kids Think of Us and Why We Should Care
Kids Are Talking!
Communicating and Listening Skills to Keep Your Customers -- and Yourself -- Smiling
The all-new 3rd session in our customer service sequence!