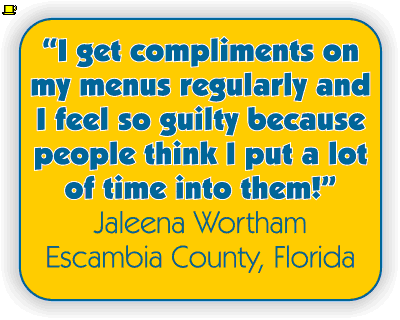 How to Subscribe to Menu Magic
The Menu Magic Fact Sheet will answer many of your questions -- PLEASE READ THIS FIRST!
Sample menus made with Menu Magic
View and print samples of the
"Wellness is a Way of Life" newsletter
The newsletters are free with Menu Magic.
Walk through an actual issue of Menu Magic
Great Extra Services FREE with your subscription
INCLUDES FREE WEB POSTING OF YOUR BEAUTIFUL,
COLORFUL MENUS CREATED WITH MENU MAGIC!
Public Relations and Marketing Support FREE with your subscription
Click on the link to see examples
Full-Color Menu Printing (includes a FREE Menu Magic subscription and much more!)
Total Menu Creation Service
Send us your menu items and we do all the rest!
See all of the Subscriber Testimonials that are running above
How to Subscribe to Menu Magic