Featured Services & Products:
---
Employee Customer Service Training and Conference Presentations!
Great Early-Bird Pricing for Summer 2018 -- exceptional savings if you're the first to book in any Summer week!
---
---
Subscribe now for the 2018-2019 school year and get the rest of this year for FREE!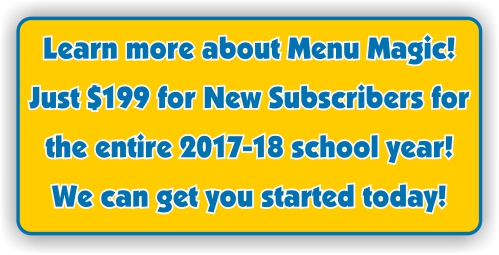 $199 Special for new subscribers only!
Price is per district for the 2018-2019 school year.
There's never been a better time to sign up for Menu Magic, America's only menu clipart and design service for School Meals. Menu Magic is the single most valuable and cost effective Public Relations and Marketing tool available to CNPs, with free web posting of your menus, too! And when you subscribe for 2018-2019 and you'll get immediate FREE access to all of our PR and marketing materials designed to create awareness of and support for the new USDA Lunch and Breakfast Regs -- whatever they turn out to be going forward!
---
---
Marketing and Point-of-Sale materials to promote the Lunch and Breakfast Regs and your CN Program!